Pumpkin festival and apple picking filled weekend
We had quite a busy weekend last week. Pumpkin festival, or Kürbisfest in German, was Saturday, and the apple festival over at apfelparadise was Sunday.
We have gone the last two years but this year felt different. Baby girl was finally old enough to participate and the hubby had to work this weekend so I was alone with the two of them.
Discovery
Because I don't speak or read German, it is very hard to find out what local activities are going on around me, and in a timely manner. Most of the time, its whispers on the playground of what they did last week. Clearly this is too late. The Toddler group Facebook page is slowly starting to understand this trend and is posting articles in German, with English translations, several times in advance of the event itself. This was paramount to my success.
I even shared it on the schools page and baby group that I organize. I don't want any other mommy's feeling left out like I did that first year
Kürbisfest
Pumpkins were first on the agenda. We drove a cool 20 minutes to the next town over and found ample parking. It started at noon and we arrived shortly thereafter so it wasn't too busy when we parked.
We walked passed the largest farmers market I have ever seen, surrounded by stalls and stalls of every variety of pumpkin I have ever seen. It was great. The kids loved looking and touching and trying to decide which one they wanted to take home. They were only allowed one so they needed to make the right choice the first time. We decided it was best to look around and explore the festival, then purchase our pumpkin on the way out.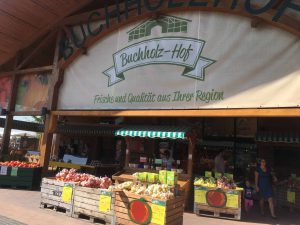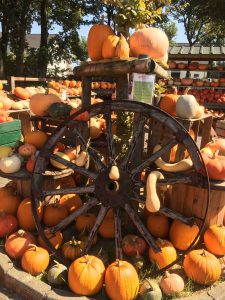 There were 3 bouncy castles, a tower of hay with a slide, pony ride and wagon ride. We parked the stroller and away we went. Munchkin didn't want to ride the pony at first but after he saw his baby sister get ready to climb on, he changed his mind and demanded to have a ride too. He decided he was going to be brave this time and didn't need me to walk around with him like I did with baby girl.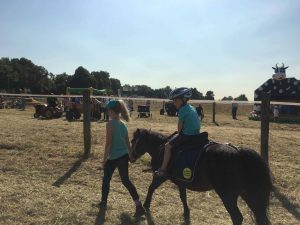 We had our fill of rides and killer sun, so we went into the market for some food. I needed to visit the store anyways but didn't want to park at the local grocery store since it is always such a hassle to get out. This wasn't even that much more expensive, and we were already there, so we did our shopping.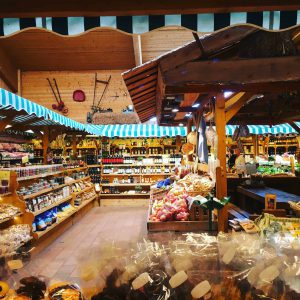 Finally got around to picking our pumpkin. He demanded to pick one that was just the right size for him to carry to the car himself, which is perfect, because I am not interested in lugging that across the parking lot. I picked a nice white one for the baby since were was a cute Pinterest craft I wanted to test out.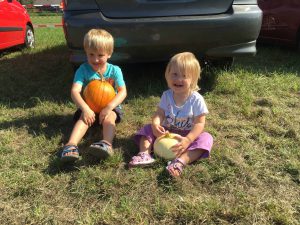 Apfelparadies
The next morning was apple picking. I had waited for baby girl to wake from her nap before driving to pumpkins the day before, but since the apple farm was so close, we walked. Munchkin had his bike and the baby in the stroller. We made it for 11 am, roughly nap time. But because I wanted her to nap, she wanted nothing to do with it. Oh well, embrace it. The front gate gave out coupons to everyone on a bike, which was great. I got 10% off fair food and the market.
We started off with face painting. The kids waited patiently and even got a balloon animal in the process. Baby girl was so excited to sit in the chair like a big girl that she nearly wiggled herself off of it. When the brush touched her skin, though, it was a different story. A tiny flower for a pretty girl and away she went, showing it off to anyone that looked at her.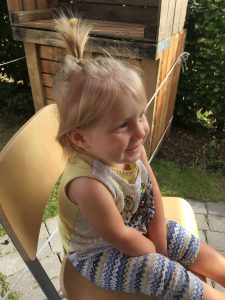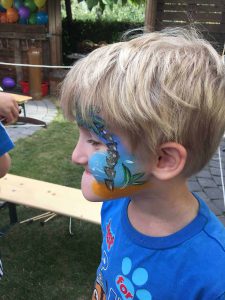 Next was pumpkin decorating, target practice and the bouncy castle. You can't have a festival without a bouncy castle. Baby girl still hadn't fallen asleep yet and the music was starting to get loud, as more and more people started to arrive. I needed to move around. We finally found the wagon ride and pony rides. Since I wanted her to sleep and he wanted to go on these rides, he decided to be brave again and take the trip on his own. Such a big boy!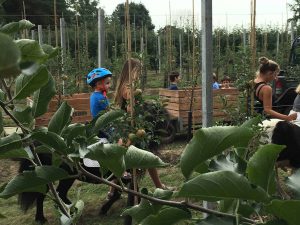 While he was doing that, the fairfood stalls finally opened up. I have been waiting a year for this; Apfelringe. It's like onion rings, only apple. They are battered and deep fried apple slices.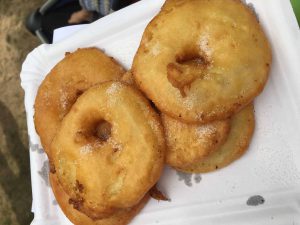 I did manage to get the recipe from them, in case you are interested. I have yet to make it, but better believe I will make the hubby try it soon.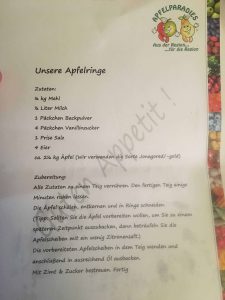 1/2 kg Flour
1/2 litre milk
1 pack of baking powder (roughly 14 g)
4 packs of Vanilla sugar (roughly 4 x 8 g of vanilla)
1 pinch of salt
4 eggs
2 1/2 kg apple , cut into slices
—–
Mix all ingredients together well. Coat apple slices and deep fry until golden brown, only a few minutes.
Sprinkle with cinnamon and sugar. Serve hot.
——
By the end of the day, she slept 30 minutes and was awoken by her brother's screams of joy when his friends arrived at the party.
We went behind the festival tent and did some apple picking of our own. I was surprised and a little disappointed in myself; we have been here for 2 years and it took my friend asking for me to actually check if this apple farm allows u-pick. We picked two nice big bags at 1,20 euro per kg, and made our way back home. I now have enough apples to last a few weeks. I will be making apple pie, apple cake and serving an apple a day in everyone's lunch bags until they run out.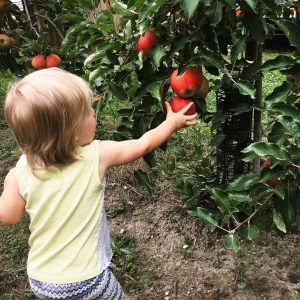 How are you celebrating the start of fall? Do you local farmers open up for festivals?
Plan Your Trip – Stay and see everything
Accommodations
Flights
Car Hire
Travel Gadgets
Tappedouttravelgadgets.com Looking for seriously cool travel gadgets? This fun, futuristic, and practical gear collection from around the web is what you're looking for!
Pin this to Pinterest:
Do you have any Tapped Out Tips?
Questions or Comments? Join the conversation below.