Disneyland Paris on our last day
On our final day of Disneyland Paris, we decided to visit our Top Disney Attractions. This meant Munchkin got to pick what he wanted to ride again, and visit anything that we may have missed. This was on a Monday, and did everything we wanted in 2 hours, after EMH had already started, just after the busiest weekend of the month.
Top Disney Attractions
We had reservations for Cafe Mickey at 8 am for breakfast, which of course means munchkin was sound asleep at 730 am.  It only cost 32 euro for two adults and the toddler was free. There were 6 characters in all; Pluto, Chip, Dale, Eeyore, Mickey and Tigger. We were allowed one hour but left before then. Munchkin was not interested in the characters and he was done eating.
We went to the
Buzz Light Year Ranger Spin
and didn't wait at all, which was nice. Munchkin and I shared a blaster and daddy had his own blaster. We did fairly well, got more points than him, but the lady in front of us killed it. She had thousands of points; I guess we were having too much fun spinning our seat around and watching munchkin try to use the blaster.
At the far back of
Fantasy land
there was a flume ride that we missed Saturday and noticed Sunday night on our train ride. We went right for that. It was a quiet ride that went through the
mini-scenes of Disney princess villages.
During the ride, we saw a train roller-coaster fly by us and he wanted to go on it. We checked the map and it was called Casey Jr, the train from Dumbo. It was the only roller-coaster for toddlers and we ran for it. He had so much fun that he wanted to do it again. There wasn't anyone around so we went out and went right back in.

After the second time, he got the idea and wanted a third ride but the line was starting to get bigger so we distracted him with promises of Dumbo. He fell for it; we went straight for Dumbo. The line was about 25 minutes but he didn't mind, he watched the kids ride dumbo and chatted about something dumbo related; he was speaking too fast, I didn't catch any of it.
 Next came It's a Small World. It isn't the most exciting ride in the park but the music, the boat ride and the visuals was just as eye catching. He liked it when we finally got to the Canada part and recognized the hockey game and the moose. I think he saw the Mountie, but can't be sure.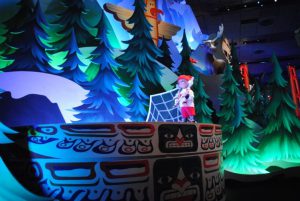 While not exactly an attraction, the parade was a huge success with the kids. Here, have some popcorn, sit for 20 minutes in a prime location and wait nicely for the parade to start. The promise of Mickey Mouse and popcorn was enough to keep him busy. This was also a great chance to hit up the stores alone (someone has to sit with them and keep our seats) and take a potty break.
The last attraction on Munchkins bucketlist was the Carousel. He was excited to be sitting on the horse by himself.
Not so much
While there are plenty of rides that I didn't mention, like Peter Pan, Pirates of the Caribbean and Aladdin, he wasn't too keen on doing those again. He did enjoy himself the first time (I think) but when we asked him, he said NO. They were too dark, too fast or too boring to do a second time around. They may not be the TOP choice, they are still great rides to take your little one on.
Driving home
One thing that we learned was to pick dates wisely, and schedule our vacations a little better. We were having a hard time finding flights or trains to get to Paris, and the only hotel available was the posche Disney Hotel. When we checked in, they told us that it was one of their busiest weekends because school was starting on Monday for three different countries in Europe.
Plan Your Trip – Stay and see everything
Accommodations
Flights
Car Hire
Travel Gadgets
Tappedouttravelgadgets.com Looking for seriously cool travel gadgets? This fun, futuristic, and practical gear collection from around the web is what you're looking for!
Pin this to Pinterest:
Do you have any Tapped Out Tips?
Questions or Comments? Join the conversation below.