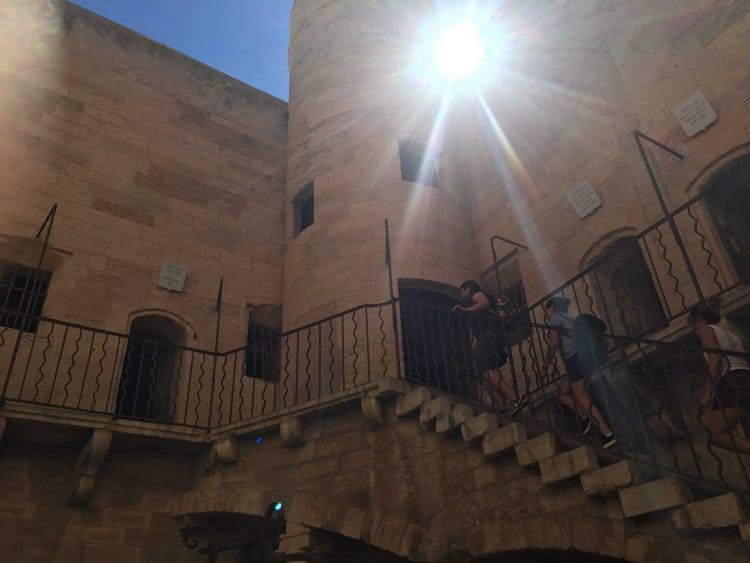 Marseilles
It's been 2 years now that we have been visiting the French Riviera for the summer and it's been 2 years that we skip Marseilles. There have been rumours around the internet that Marseilles is not a safe place. From muggings, murder and everything in between, due to a misguided sense that the ancient port city has been "overrun by migrants". Of course, like any other search engine – once you have a conclusion, everything online will support your theory. I, on the other hand, had only heard positive things and therefore only ran into positive reviews. Behold the Power of Google Search. Finally, one day we decided to come to a compromise; head for the day and stay along the port, and make up our own minds about Marseilles. Why not, what could happen? The kids melt down in a fit of tantrums and heat exhaustion, that's what.
Success or fail?
We drove the 2 hours to Marseilles in hopes of a pleasant day trip to break up our week. Munchkin had tummy troubles the night before so the drive was a little "scary". We stopped halfway for a potty break and he seemed alright, just tired and moody. This was the tone for the day. Baby girl fell asleep way too early, so when we arrived at 1030 am she was wide awake. In hindsight, we should have scrapped the trip before even leaving the chalet but we thought a little nap in the car would do them some good.
We walked along the old port and investigated the shuttles to Chateau d'if.
Also see; Road tripping with kids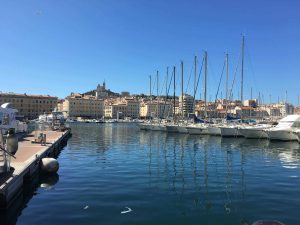 Hard Rock cafe was down the street so we decided to have an early lunch. We arrived and the place was empty. The host showed us around after my son mentioned he didn't see any guitars in the entrance. It was funny to watch the guy show him all the guitars, each one bigger and flashier than the last. Not sure how big this location was but I feel it was the largest I have been to in Europe, and it was only 2 years old. Once we finally sat down and had our orders taken, it was starting to fill up so we had made it just in time.
Also see:Best Baby Travel Gear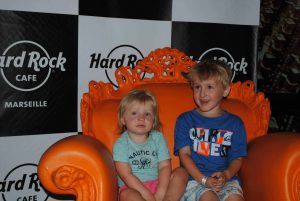 After lunch we walked back towards the port and waited in line at the Frioul D'if express to purchase tickets, then another 30 min line to wait for the shuttle boat not leaving the harbour until 2:15pm. Toddler was tired of standing around, baby was just tired in general and then we all needed to pee. No one knew where the nearest public restroom was but the shuttle had a toilet and all was good again.
Also see; French Riviera Adventures
Landing |Chateau d'if 
At the dock, there is a set of steps that required lifting the stroller a two person job, then long stairs that I could take easily myself, led us to the main entrance to buy tickets. This is where the gentleman told me that strollers are not allowed. This would have been nice if they had mentioned it when I bought the shuttle tickets; I had the stroller in hand and she asked for my destination. Baby girl ended up walking most of the site, save the stairs and catwalk. I left my carrier in the car, and would have retrieved, had I known.
As seen on; Best Castles in Europe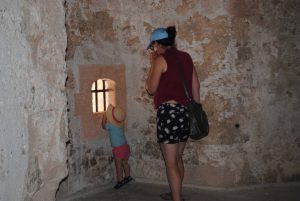 The area is a barren waste land but the view and history are amazing. We had a great, hot time. The main area has a toilet and vending machine, I didn't buy from it because it looked a little dusty. Next door was a restaurant overlooking the harbour and nearby islands. It was a nice 30 min break; wine and apple pie, yummy.
They say to take 1.5 hours on the island. We didn't think we had spent that much time but we ended up taking the 415 shuttle back to the mainland. It is a 45 min shuttle to land, but only 20 to the island, because there is a stop at Frioul island in between.
Also see: Tips for traveling with kids and babies
Mainland
We got back fairly late and we were all exhausted. Baby fell asleep on the boat, of course,now that she had her stroller back. We grabbed snacks and drinks at a nearby cafe and headed home.
For some reason, the GPS refused to take us back the way we came in. The parking garage was 21€ for the half day we spent, and it was right at the port. We took the long tunnel that empties right in front of the garage. Not sure what was going on in the afternoon but it took us 1 hour to leave the city. By then the traffic was gone but we were also done. There are days when you just need to override the GPS and take out your paper map (or manually check your Google Maps); today was that day.
Also see; Travel Toddler bag
I can't decide if today was a travelers win or a parenting fail… or both. It was a long, hot, driving filled day but I saw the castle/prison.
~ Featured Items ~
Plan Your Trip – Stay and see everything
Accommodations
Flights
Car Hire
Pin this to Pinterest:
Do you have any Tapped Out Tips?
Questions or Comments? Join the conversation below.