Tour guide to the first guest in our new home
This week was a little busier than most; my mom came to visit for 9 days and I had the pleasure of taking her around for her mini solo vacation as her personal tour guide. Because I am 5 months pregnant, and the proud owner of a 2.5 year old handful, I needed to make sure that transportation to any destination was quick and painless. We decided to start Monday with Aachen, then Koln, Brussels for a night, Munster, and finish it off with a Christmas market at the Altstadt.
Aachen
              To get to
Aachen
, we took the
Wupper express.
It is roughly 1.5 hours and reminds me of the GO transit system in Toronto. Commuter train, double decker, makes a few stops along the way and no reserved seating.  For the two people( under 6 is free) cost 33 euro as long as we returned same day and the ticket was valid from 9 am – 3 am. Along the way, we found out that there is a
Lindt factory
outlet in Aachen, but not near the city centre. It was around this time that I ran out of data on my phone. I quickly texted my carrier for more internet and googled the location, as well as the train stop. FYI, its called "Aachen west". Go down a few streets, maybe 10 minutes at my walking pace and there it is – huge parking lot as well. As we were walking in, we saw people walking out with large boxes overflowing with chocolate, and some filled shopping carts full. We didn't have that kind of money, or transportation abilities so we had to hold ourselves back. When we walked in, it was a giant warehouse with rows on rows of chocolate discounts. We bought 12 pieces, and it only came to 24 euro. Not bad for Europe, but that stills $35 Canadian for 12 pieces of chocolate, roughly the same price as Walmart on sale – though I hear the quality is much better.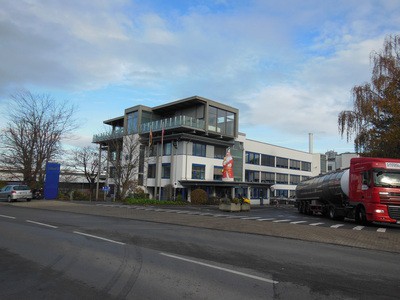 Next we went to the Ponttor, it was only 10 minutes from the factory so we walked. Then headed to the city centre for the Treasury, Dom and Rathaus. The Christmas markets were being set up and the fountains were turned off so the square was a little more crowded than we liked but it didn't matter. There also wasn't as many restaurants that tickled my pregnant fancy so we stopped at the Kaiser in the square and had lunch German style; we bought buns, sandwich meat, mustard in a tube and sliced cheese. We found a park bench and made sandwiches. 8 euro later, we were all happy and fed.  The Dom demands silence so I had a little chat with the munchkin before we went inside; indoor voices and no screaming. I held him and began to whisper, he whispered back to me. We walked a little faster than I would have liked to see everything properly but he insisted that we keep going, not staying in one place too long. Hey, if it keeps him quiet, I would gladly do a few laps of the church. Making our way slowly towards the central Hbf, we went through the Elisenbrunnen and discovered that munchkin fell asleep. Not far from there was the train station and there wasn't more on our map of things to do so we left. We boarded at 245 pm, so a solid 4 hours of walking and sightseeing.
Koln
           Tuesday was Koln day. Again, the ticketmaster was very helpful in getting us a cheap ticket without connections. 43 euro, valid from 9 am to 3 am same day travel for two people and free toddler. Same double decker train; this one was much busier but much faster. As I am changing the toddler (before he passes out, poor dude was so tired, I had to wake him up in the morning to catch the train on time), the PA system says we need to evacuate the station for an undisclosed reason. As we are rushing out of the washroom and heading for the door, we see people shopping and sitting down in the station. It was in German and English, I have no idea why they weren't leaving but I wanted nothing to do with staying.
            The Dom , or Koln Cathedral was just on the other side of the station, we actually saw it from the station entrance. This tour took a little bit longer than the Aachen cathedral , but it was also much bigger. At the bottom of the stairs was a visitors centre where we bought a few souvenirs and a map of the area.
       Our route took us past the Hard Rock cafe on the way to the chocolate museum. As we made our way down the coast, we found a few churches, the Rathaus, fountains and statues. The Hard Rock was easy to find and we arrived there by 1 pm. Not too late for lunch and gave the little one plenty of time to wake up. We finally arrived to the museum, and they loaded us with samples at the entrance, as well as along the tour. Munchkin also found a gummy lollipop as a souvenir and ate that along the way home. We took another route home, seeing more churches and the Roman Wall. We didn't board the train until 430 pm which meant the hubby beat us home and had already started dinner.
Brussels
            Brussels was another early morning for us all. The ticketmaster gave us a few options for transportation; DB Bahn for 271euro, departing at 645 am or 1130 am, travel time was 2.5 hours and arrives at the station at Midi-gare. The other option was the IC Bus, 131 euro, departing at 935 am, travel time was 3 hours and arrives at the Central station. We took the information and went home to think about it. We pretty much knew what we were going to do but had a feeling we needed to wait until we got to the house. I am glad we did; only had two price options for the IC Bus; transferable and refundable for 131euro or non-transferable/non-refundable for 66euro (for two people, not per person). We were not going to change our mind so we went the cheaper way. The return ticket was for 4 pm or 730pm, so we choose the 4 pm Thursday bus; 730 pm plus 3 hours of drive time was too late for a little munchkin and his sleep deprived mom. I am always buying my train tickets online myself from now on. 
           We arrived in Brussels around 1230 pm. We made our way through the
Grand Place
, stopped at the
Tintin Boutique
for souvenirs  before heading to the hotel. When I went with my family, we stayed at
Hotel Aris
; just down the street from the Grand Place. This time, I wanted something a little cheaper since we were spending so much this week already. Aris wanted 171 euro for a Wednesday night, but I found
Hotel Chantecler
two blocks away for 66euro. The blocks are a little larger than Google maps made them appear and the quality of the hotel rooms was not comparable but it was a bed, so I didn't care too much about the mirrors on the ceiling that reminded us of bad 80's porn.
        The only packing difference from our day trips was a change of clothes in the backpack and a cot for the munchkin – too big for a playpen and too small for a twin bed. A
$60 cot
 has done us wonders on our previous overnight travels and it did not disappoint this time around.
        After dropping our things off, we went back to the Grand Place for lunch; Hard Rock cafe, mom needed the t-shirt and the burgers smelled too good to pass up. We checked the price for the tour of the town hall, but forgot to check the times, so we missed that; Sunday and Wednesday, 1 pm-4 pm.
             We bought a map at a local souvenir store that had points of interest labeled on it and we sketched out a game plan during lunch. We made our way down to the Palais de Justice and the Porte de Hal. We were going to take the Hop-on, Hop-off bus but the distances weren't enough to warrant transit.  After the court house, we tried to follow the street signs for the Porte de Hal, but they were taking us in circles, so we called it a night and started walking back. Monster fell asleep around 330 pm and just before we made it to the Mannequin Pis, he woke up, so we were able to show him the little peeing boy. He was more concerned that the boy was naked, which is a valid concern considering he is two years old.
          We could see the Grand Place was being light up by purple and green lights and wanted to get a closer look; there was a
horse and buggy ride
in the square and he wanted to ride the horse, so we did it – a little expensive but it was fun and he had a great time. We also learned a few things about the city from the driver/tour guide. Dinner was at
Le Rubens
; great service, great food, and just around the corner from the Grand Place.
        The next day, we packed all of our things and managed to make our way down a few blocks to breakfast. We stopped at
Aux gaufres de Bruxelles
for waffles and dropped our luggage/parcels at the bus station lockers. It only cost us 3 euro for a large, but the headache of having inadequate instructions was worth much more. We had no intention of taking the bags and cot to the museum with us, but there was also no one around to help the struggling foreigners (we weren't the only ones that had no idea what we were doing).
            Our first stop was the Cathedral of St Michael and St Gudula. Thankfully munchkin was in a whispering mood again so the tour was peaceful and silent. We walked passed the Town hall and a few other wonderful landmarks before making our way through the Parliamentarium. Instead of going around like the map suggested, we went through it and I am glad we did. We found a piece of the Berlin Wall, only erected last week in commemoration of the 25th anniversary of its fall.
.
           The
Natural Science and History Museum
was amazing; but busy. There were several school field trips going in and out of the museum and they were all roughly munchkins size, so he tried to run off with them and join in their fun. Because he watches Dinosaur Train on a regular basis, he knew most of the dinosaur names just by  looking at their fossils, which completely caught me by surprise. After two hours of running around the museum, we left in search of lunch. Munchkin fell asleep very quickly in his warm, cozy stroller. We made our way a little further away from the center in order to see the
Cinquantenaire,
which was all uphill from the museum. By this point, it was 145 pm and I needed a rest. We made our way back to the station, finding lunch along the way and bought a little something extra for when munchkin eventually woke up. We arrived at the station by 230 pm and grabbed our belongings from the lockers.
           The buses picked us up from the same location that they dropped us off; important information because the ladies at the information desk were less than helpful and didn't know where the buses did their business, she only helps with train related questions.
Munster
By the time we got home, we decided that we were going to scrap the Munster day trip. We were tired and our money was spent. Visiting another city would have been great but it is only an hour from me by train; another visit perhaps.
---
Overall, it was a busy week but it was amazing. Playing tour guide to an easy traveler like my mom was a great way to practice my budding planning skills. Little did I realize this would be a trend for future visits with my parents, as well as my own travels around Europe. No travel agents for us!
4 cities, 5 days and 400 euro later (train/bus, hotel and food), we had a great little tour of the area. If only all vacations could be this economical.
Plan Your Trip – Stay and see everything
Accommodations
Flights
Car Hire
Do you have any Tapped Out Tips?
Questions or Comments? Join the conversation below.