Jungfraujoch – Top of Europe
Now that you have successfully decided to visit Jungfraujoch, what of those underlying questions before you arrive. While I have already discussed what the tour will look like,  Is Jungfraujoch safe for kids? How do you get there? When do you buy tickets?  There is a lot to getting to Jungfraujoch with less hassle and no underlying concerns. This is your guide to visiting Jungfraujoch – Top of Europe
As seen on; 2 week Switzerland Road Trip
Grindelwald to Jungfraujoch Train Tickets
When & How
The Jungfraujoch website is really hard to navigate and even worst for information seekers. At the end of the day, buy tickets when you get there or call and have them walk you through it if you need to reserve. If your group is really that big though, calling or using a tour company may give your group some discounts so think about that before buying the wrong items online. Like any weather-dependent activity, buying in advance serves no purpose. If the weather is horrible and you have other days as an option, wait it out and hope for the best. Reserved seating is always an option but that is usually only for 1st class seating and for ultra large groups.
Small groups or families, or those purchasing 2nd class seating, there is always a seat available, or wait 30 minutes to get first in line for the next train. Tickets on poor-weather days are not discounted nor are they refundable. Be sure to check the website often for any special rates they may offer. Jungfraujoch Tourism and Grindelwald Tourism are not the same entity.
There is currently a special Christmas rate that they are offering from Mid-November to early January. Be aware, the offer is for online purchases or coupon-holding guests at the train station, these coupons were printing in various Swiss newspapers. If there is such a promotion available during your stay, I suggest purchasing online in the early morning of the date intended, as the ticket office itself will not honour this price without a coupon.
Also see; Tips for Winter Road trips
How long to stay in town
In general, I would give it a few days. You can always visit the neighboring Interlaken, or even Bern / Thun / Montreux if the weather continues to stay poor. Everything is fairly close together, and with the free bus pass, it doesn't take long to get down the hill and access regional trains.
I say so long because you can never predict the weather. On Christmas eve and Boxing day, the weather was perfect, but we decided to visit on Christmas day and it was storming at the top. Not only were we not allowed outside to visit the Monchsjoch Hut, but we couldn't play on the glacier itself and go sledding. That was one disappointed little boy.
Is Jungfraujoch Safe for kids?
Jungfraujoch was absolutely safe for kids. Baby girl slept the whole time, of course, but Munchkin had a blast. There was an elevator for the stroller, and nothing was open enough for the munchkin to hurt himself should be get out of sight.
The trains are every 30 minutes so the crowds are spread out a little. The real trick is to run right through them at the beginning where they all huddle around the souvenir shop and cafe. Buy your trinkets at the end of the tour, and have lunch at the cafeteria instead of the cafe. More options and better seating.
Also see; Jungfraujoch with kids
In terms of altitude, they recommend children until 1 years old stay lower than 4000 meters so we are covered in that respect. I made sure to check on her breathing and we asked the Munchkin several times how he was feeling. They seemed to be OK with it all.
Food options
Speaking of food; when ordering lunch from the cafeteria, one serving is good enough for two adults. The kids had an adult portion of Chicken nuggets and fries and it was way too many fries for them to share, but the number of nuggets was perfect. My Beef strogonaff was way too big and ended up sharing with the hubby. They charge 20 CHF per plate for a reason, though I would have preferred paying less and receiving less.
The main lobby has a snack and drink bar. Due to the large number of Japanese tourists that come to Jungfraujoch on an annual basis, there is a significant Japanese presence in the menu. This can also be seen at Grindelwald, where they have a Tourism Office specifically for Japanese tourists.
Also see: Tips for traveling with kids and babies
Stroller friendly?
The trains and inside of the mountain are extremely stroller friendly. There was an elevator directly beside every set of stairs, and they are more than wide enough to accommodate my wide Bob Revolution and family members.
We didn't purchase reserved seats but once we arrived at the second train, The Jungfraubahn, at Kleine Scheidegg, we were escorted to the handicap car where we could roll the stroller on board and leave it open, out of the way of the door.
The first train didn't have a special car and the seats can not be reserved so just like standard public transit, I had to stand with the stroller by the door and move it over whenever the doors opened for passengers.
They do check your tickets, going up and coming back down, so be sure to buy the proper ones and don't let them out of your sight.
Also see; Road tripping with kids
Dress for success
Even in December, the weather wasn't too cold. I had my good winter coat and proper snow/hiking boots. I brought my snow pants just in case we went for a walk outside, but the weather stayed poor so they weren't needed in the end. Hats and mitts were definitely required for the small time we were outside, and the Ice Palace. We even made sure to place an extra blanket over the baby while we walked around. It isn't very long but it was still that cold.
If you don't have proper gear or don't want to pack them, there is a store on the resort that rents ski coats and pants, along with all ski equipment.
Also see; Winter Packing List and  Basic Winter Gear for Europe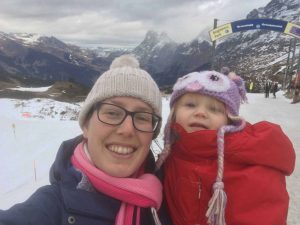 Entertaining the kids on the train
Depending on your point of departure, getting to Jungfraujoch is only 45-30 minutes long train ride. While there isn't much to do on the train itself, and moving around in it isn't exactly an option, there is still plenty of space for the children to do their own activities. Neither train had a table between the chairs, that we could see, but a book, tablet or colouring book can still be used on their lap.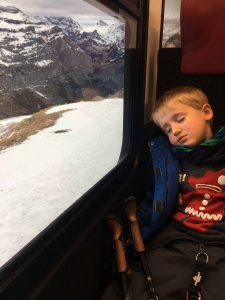 Train schedule
The train leaves every 30 minutes from each station, in every direction, so you are never siting around, waiting, for very long. There is an announcement 15 minutes prior at Jungfraujoc just in case you were in a rush to get down.
The train from Kleine Scheidegg to Jungfraujoch leaves roughly 10 minute later.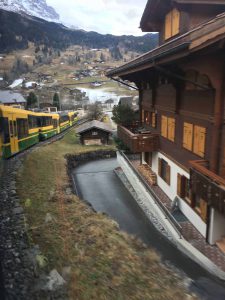 Altitude sickness
As the highest train station in Europe, there are a few things one needs to prepare before climbing the jungfrau. There are several signs of altitude sickness that one needs to be aware of before making the ascend. The following information is pulled directly from Government of the United Kingdoms website, NHS.
Common symptoms of mild altitude sickness (sometimes called acute mountain sickness) can be similar to a bad hangover ( the symptoms are usually worse at night) and may include:
[column size="one-third" last="true"]
dizziness
feeling unsteady
nausea and vomiting
headache
tiredness
loss of appetite
upset stomach
shortness of breath
increased heart rate
difficulty sleeping
generally feeling unwell
At this altitude, it is not a major risk of sickness but it has been reported and should not be taken lightly. It can affect the most physically fit, youngest, professional skier, and not the fat old guy sitting next to you. Everyone is different, every time is different. Being acclimatized to the altitude may help some, but it doesn't work for everyone.
Children are less likely to be affected because their oxygen intact differs than adults, in their little bodies, but do not discount them. They may not be able to verbalize their sickness until it is too late. Once symptoms start and don't fade away after taking a rest, it is strongly advise you descend on the next available train. Also, parents traveling alone with small children should have a way to communicate to the kids that they, themselves, are not feeling well and what to do in case of an emergency. If they are too young for this, I advice having a temporary travel partner or always stay near a group.
Short of having any medical conditions, medications and allergies printed on your forehead, I also suggest making this information easily available. Be it in your wallet, pocket, or medical alert bracelet; it is always best to be over prepared than under prepared.
Is it worth the money?
The train switches in Kleine Scheidegg and we didn't have a time frame to be back at Grindelwald so we did take the time to hang out there for a little while. There were restaurants, gift shops, hiking trails and a pub inside a tipis. Skiing is also a big deal at this train stop as well so there is no reason to continue down the mountain in a rush. While Skis are not allowed on the Jungfraubahn, they can be left in Kleine Scheidegg until your return, then spend the rest of the day skiing.
The idea of paying 160 CHF per person for a return ticket did seem like a huge deal at the time, but it was a pretty amazing experience once we reached the top. I'm sure if I had been able to actually explore the glacier and play in the snow, I wouldn't have any reservations about answering this question. So I guess my final answer is, it is worth the money when it is a perfectly clear day. Anything short of that is questionable, only because my goal was to sled with my kids and I didn't.
Where to stay in Jungfrau?
There are several chalets from Interlaken to Jungfrau and they vary in price range. It is possible to stay at Interlaken, take the train through Grindelwald and join the rest of the tour to continue on to the Top of Europe. Or, for a more secluded stay, a resort a little further up the mountain has an amazing view – but with a price tag.
Interlaken
Deluxe
With a choice of mountain or river view, this 4 star hotel is a short walk from the centre of town and provides free wifi.
100m from the train station, it was voted best in Interlaken and is a particular favorite for couples.
Hotel Royal St Georges Interlaken Mgallery by Sofitel
The historic facade dates back to 1908, offers free wifi, sauna and wellness access and the family rooms are spacious.
Moderate
Breakfast included in your stay, as well as wifi and parking. A spacious family room and free access to the indoor and outdoor pool make Hotel Derby a preferred choice for families.
Bus line takes guests direct to the train station, or a quick 10 min walk. A part of a residential complex and retirement home, this hotel lists family rooms as one of their options.
Budget
Backpackers Villa Sonnenhof – Hostel Interlaken
Every guest has free access to the self-catering kitchen facilities.
Guests enjoy free access to the public indoor and outdoor swimming pools, free mini golf, free use of public buses, and free parking.
Family rooms are available.
Family rooms are available but the onsite club and bar make this hostel more appropriate for single or couple travelers on a budget.
Grindelwald
Deluxe
Sunstar Alpine Hotel & SPA Grindelwald
The Wellness Oasis, with its large swimming pool, log cabin sauna, Roman baths with 4 climate zones and massage showers, is the perfect place to relax and feel great. It can be used free of charge.
Located in the heart of Grindelwald, this 4 star family hotel offers a hot-tub for mum and dad at the end of a long day.
In the Ristorante Mercato the finest pizzas, pasta and hearty meat dishes as well as tender fish dishes are served and is Tapped Out Travellers tested.
Moderate
350 m from the train station and the First cable car. Wi-Fi and parking are available free of charge. Guests of the Tschuggen enjoy free admission to the indoor pool and ice rink at Grindelwald's sports centre (200 m away).
Tapped Out Travellers tested.
The hotel is situated in the heart of Grindelwald, 5 minutes from the train station. Most rooms have a balcony with a breathtaking view of the Eiger Mountain. Family rooms available and free wifi comes standard.
Budget
Grindelwald Train Station can be found within 350 m and a sport centre is a 2-minute walk away. Interlaken can be reached within 20 km. Family rooms are available.
Up the mountain
Deluxe
Hotel & Spa Victoria-Lauberhorn
Built in 1897, is centrally located next to the train and cable car station of the car-free Wengen and features up-to-date spa facilities including a swimming pool. Family rooms are available
It is situated right at the lower terminus of the Wengen-Männlichen cable car, providing for easy access to the numerous ski slopes of Grindelwald and the Kleine Scheidegg. A children's playground is featured. Family rooms are available
Built in a classic Swiss chalet style, the Aspen Alpine Lifestyle Hotel in Grindelwald is next to the hiking trails and ski slopes of the Kleine Scheidegg/Männlichen Area. It offers a spa area with an outdoor hot tub. All rooms feature views of the Eiger or Wetterhorn Mountains.
This apartment can fit up to 4 people and hosts a fully stocked kitchen.
Moderate
Located in the car-free village of Wengen, a 7-minute walk from the train station, the Hotel Residence Brunner offers ski-to-door access, as well as panoramic views of the Jungfrau Massif and the surrounding mountains. Free WiFi is provided in the entire property which was partially renovated in 2013.
The Belvédère hotel is located only 5 minutes' walk from the train station. On request, a free luggage transport from and to the Wengen Train Station is offered upon arrival and departure. Family rooms are available
Budget-ish
Set at 2,225 m above sea level, Berghaus Männlichen offers a sun terrace with great views of the Swiss Alps, a self-service restaurant, and a children's playground. This quietly located guest house is 12 km from Grindelwald village centre.
~ Featured Items ~
~click the items for more information~
Plan Your Trip – Stay and see everything
Accommodations
Flights
Car Hire
Pin this to Pinterest:
Do you have any Tapped Out Tips?
Questions or Comments? Join the conversation below.