Getting to know Zurich
When we first landed in Zurich, we had 5 exciting days of exploring, sightseeing, Christmas Markets and day trips planned. We noticed right away that everything in Zurich was fairly close to each other, but also moving away from the central station. Without our car (parking it on day 1 and leaving it there), we didn't want to go to far away, because then we had to make our way back again. A guided tour of Zurich on our first full day was probably the best way to get a 'lay of the land' and decide what needed to be revisited afterwards.
As seen on; 2 week Switzerland Road Trip
2 hour Zurich walking tour
The Stories of Old Town Zurich walking tour was the one that we had decided to go on with our kids in tow. There were several options, mind you, like Christmas Markets walk, Best of Zurich bus tour, there is even a city tour geared around kids specifically but that was a little outside of my budget.
The Guided tour of Zurich started at the Tourism Office in the Train station, which was great because that's where we landed and where the Christmas Markets started (gluwein before a tour, anyone?). The tours are offered in German and English, twice a day (11 am and 3 pm) and dogs are welcomed on request. It didn't take long to get everyone together and we were on our way. We learned a few interesting facts about the station – it was a little difficult to navigate and see the guide through the market visitors, but before long we moving on outside. She always announced where we were meeting if it was too crowded so we wouldn't get lost – or so my hubby says, I was too busy answering my sons 100 questions in a single breath to hear much of what she was saying at first.
Also see; Winter Packing List and  Basic Winter Gear for Europe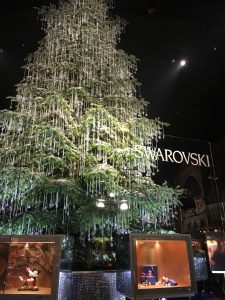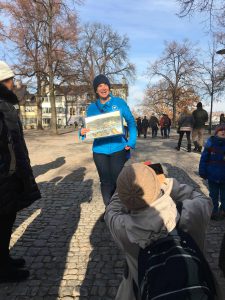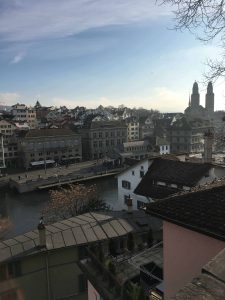 Pros and Cons of a Zurich walking tour
We took a great route around the city, better than anything I could have planned. We were able to see everything on my list and more, in just 2 short hours. A lot of information could have been found just by looking through Wikipedia, but my guide was much more entertaining than a boring old website and we were able to see the places first hand while we listened, so it did register better.
We did feel a little rushed, since we only had 2 hours to see everything on our list. We weren't able to go inside anything because we didn't have time during the tour. Having a tour on a Sunday didn't help either; most buildings were closed to the public anyways so I couldn't go in after the tour, even if I wanted to. We decided to spend the afternoon at the Christmas market near our final stop (since we don't end where we started).
Also see; Tips for Winter Road trips
The tour itself is neither friendly nor unfriendly towards children, I just found that my son was bored from all the stories and sites, without much for him to do. The guide was very nice to take a ramp instead of stairs whenever possible so the stroller was able to keep up with the group. There were no potty breaks, but then again most adults can go before the start of the tour and wait 2 hours before needing another. My monster, on the other hand, needed to go right near the end so I missed the last two stops because we were using the facilities – they weren't easy to find by the way. Zurich really does a good job of keeping their 'business' discrete.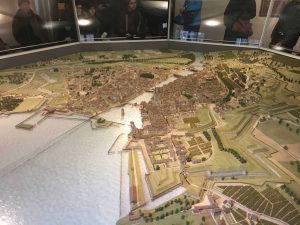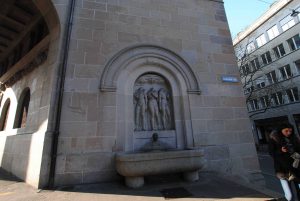 Fun facts learned
I did manage to learn a few things between the screaming baby and whining child (I kid, they weren't that bad).
Also see; Road tripping with kids
Most of the public water in Switzerland is drinkable. Of the 1200 fountains in the city, something like 90% of them are rated for public consumption. The others are listed as not safe so there is no confusion.
The river was surprisingly clear as well. I searched long and hard after she mentioned it and I wasn't able to see a single speck of dirt in the water, despite the boat traffic.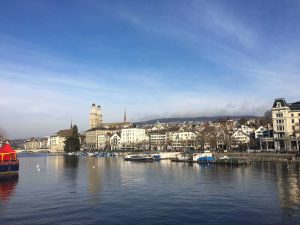 St Peter's church holds the largest clock face in Europe – even bigger than Big Ben. The minute hand is 600 m long and moves 42 cm for each minute.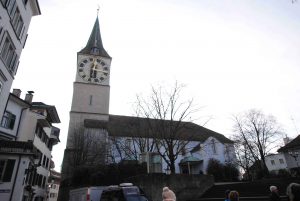 Also see; Travel Toddler bag
Before selecting your Zurich walking tour online, there are a few things you need to get in place first. 1. What day and time works best for you, clearly. 2. How to do it on the cheap.
Don't we all want to get something for less than advertised? Getting the Zurich card before hand allows you to receive the tour for half price. Did I mention the guide gave us all a ticket for a free gluwein. That's another half off the remaining fee. Since we all know I was going to grab one anyways, that makes my ticket worth 6 CHF. Awesome!
Anyways. The Zurich card, once activated, allowed us free access to public transit, which we needed to get from my hotel to the city centre anyways. The card can also be picked up at the Tourism Office (which is where we went – also grabbed some inexpensive souvenirs), or at the airport if you are flying into town. We also had free entrance to numerous museums, a handful of discounts or freebies at nightclubs or lounges (if I was into that, I mean), and "culinary surprises" at various restaurants. I haven't figured out that means yet. Some say it's a free desert, some were a little more vague. The one night we went to a partner restaurant, it was so busy that I forgot to ask.
Also see: Tips for traveling with kids and babies
---
At the end of the day, we had a great morning. We found new places to add to our list for our Monday in Zurich. The kids also got to hear a few neat stories that stuck with them. And we got to wander around the city while everything was closed, so most of these stops we visited were empty, making it great to take pictures or listen to a guide without headphones.
*Thank you Zurich Tourism for the invitation and tickets. While I appreciate opportunities like these, all opinions are my own. See my disclosure for more information*
Plan Your Trip – Stay and see everything
Accommodations
Flights
Car Hire
Travel Gadgets
Tappedouttravelgadgets.com Looking for seriously cool travel gadgets? This fun, futuristic, and practical gear collection from around the web is what you're looking for!
Pin this to Pinterest:
Do you have any Tapped Out Tips?
Questions or Comments? Join the conversation below.