Road Trip Through Switzerland
During our Christmas holidays, we decided to explore Switzerland. Not interested in abiding by anyone else's schedule but our own (read; the children's), we found the only option was to Road trip through Switzerland. This ended up working out great. We were able to explore the outlying cities, check out the Christmas Markets in the smaller towns, and head home a few days early when it became too much for the kids.
Also see; Tips for Winter Road trips
Day 1 | Heidelberg
Our Road trip through Switzerland started out on the right foot by hitting up the Heidelberg Christmas Market and Castle. We arrived just as the kids were waking from their naps and ready to hit the ground in search for lunch. We spent a few hours walking around the 5 Christmas markets before setting our sights on the castle. A quick trip on a funicular and we reached the top, and were ready to explore. For future reference, guests need to book a private tour in order to access the inside of the castle. Either way, the outside was just as nice and we needed to get going to our next stop.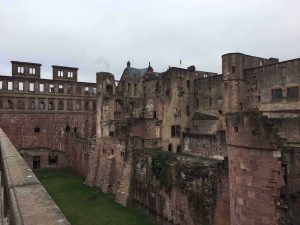 Triberg
We had planned on spending the night in Heidelberg but we really wanted to check out Triberg before leaving the area so we changed our reservation, easily (and often) done through booking.com , and spent our first night in Triberg. It was a short few hours drive from Heidelberg so the kids had enough time to sleep off the afternoon activities and get ready for dinner.
From here we were able to explore the Triberg waterfalls, check out some of the local shops and sights, before finally getting to our target destination; purchasing a cuckoo clock. Ever since hubby went with his parents over the summer, Munchkin has been asking for one of his own. We decided this time to finally break the bank and get both kids a smaller, single day, cuckoo clock to hang in their rooms.
Also see; Travel Toddler bag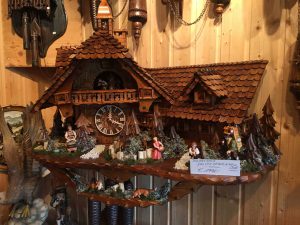 Day 2 | Rhine falls
Shortly after shopping and lunch, we drove to Rhine falls. The children woke up early that morning so they fell asleep rather quickly once the car started. We didn't want to wake them when we arrived, but at 5 euro per hour in the car park, we also didn't want to stick around any longer than we needed.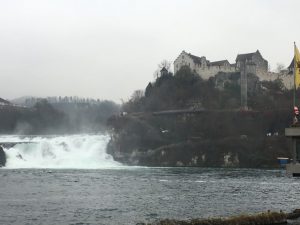 Day 2| Zürich
Our second night was in Zürich. We made sure we arrived early enough to check in and unpack the car while it was still light outside. The train station was across the street from the hotel, and there wasn't much to do in the immediate area so we offloaded the stroller and went to the main station for dinner at the Christmas market.
Also see: Tips for traveling with kids and babies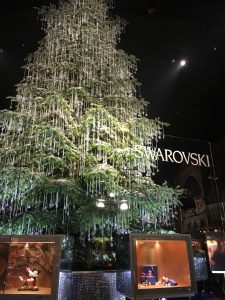 Day 3| Zürich Walking Tour
Sunday morning we had the walking tour scheduled so we were able to visit the station and Christmas market both during the day and in the evening when the Christmas decorations were lite up. We hit most of the major points on our to-do list during the tour so we took advantage of the rest of our time in Zürich to explore the greater area.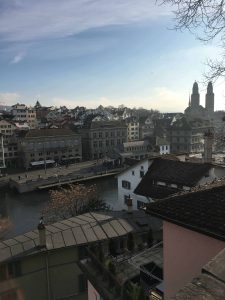 We took several day trips, which was much easier to access with our hotel being on the outskirts of town, instead of central like we usually reserve. We even had the chance to visit the famous SaurierMuseum in the next town over. Definitely a not-to-be-missed item.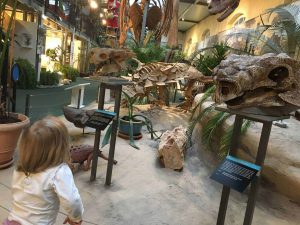 Day 4 | Vaduz
Our first day trip from Zürich was to Vaduz, the capital of Liechtenstein. Being only 2 hours from Zürich, there was no way I was going to miss the chance to visit one of the smallest countries in the world. Vaduz tourism office was also able to stamp my passport, for a fee. Beautiful!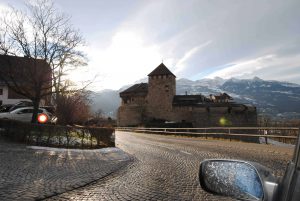 Day 5 | Lucerne
For our second day trip, on Tuesday, we stopped in Lucerne. From here we were able to check out many of the famous landmarks that everyone has come to associate with Switzerland, including the covered bridge. It was chilly and the kids weren't all that interested in exploring today so we didn't stay long. Honestly, the markets were a little disappointing and the landmarks are a little spread out so I didn't mind leaving after 3 hours.
Also see; Road tripping with kids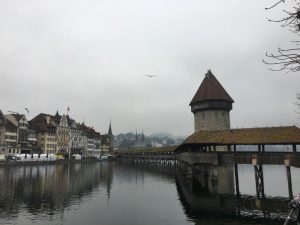 The Swiss Museum of transport was on our way out. When I initially Googled it, I understood it as a Train museum, and next door was a chocolate factory tour. Nope. The Swiss Museum of Transportation is a giant compound with a separate building for each mode of transportation, and it was attached to the Lindt Factory Tour. We spent another 3 hours here exploring, and we left the stroller in the car, so both Baby Girl and I were exhausted by the end of it.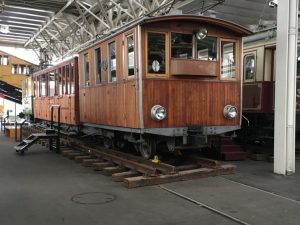 Day 6 | Laundry day
On Wednesday we decided to take the day off from touring and live like the locals. We found a nice laundromat next to a large grocery store. Had a nice drive downtown, and just wandered around aimlessly. It was rather nice.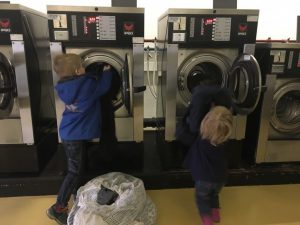 Day 7, 8 | Zermatt
On Thursday, we took the car-train from Zürich to Täsch. The kids were fascinated by the whole experience. We arrived with 10 minutes to spare; potty break, 30 CHF for a ticket and boarded the train. 30 minutes later and we were on the other side. While we were driving up the mountain, to get to the town that held this train, I realized I am glad that we are going in this direction and not Zermatt to Zürich… we were on the inside of the road the whole time, and their guardrails are too small for me (I am terrified of heights).
Also see; Winter Packing List and  Basic Winter Gear for Europe
In order to access Zermatt, we stayed in Täsch for 2 nights and took the train into town, since cars are not permitted in the ski-resort town. From here we explored the town, then made the journey up the mountain to Matterhorn Glacier Paradise.
Day 9, 10 | Jungfraujoch
After spending two nights in Tasch, we moved on to another great mountain range, taking another car-train towards Grindelwald. We spent Christmas eve and Christmas morning in the shadows of the beautiful Jungfrau mountain; we woke up Christmas morning to a buffet breakfast in our hotel, and rode the cog train up to Jungfraujoch.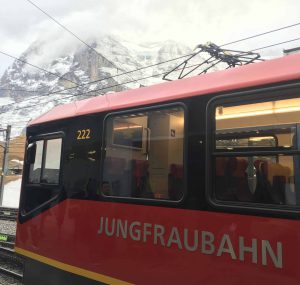 During the research portion of our planning, I had a hard time finding proper information regarding Jungfraujoch with small children. That is when I decided to dedicate two whole articles on this journey; Jungfraujoch with kids – the logistics of taking children into the mountain, as well as Getting to Jungfraujoch – knowing how and when to book tickets and actually arrive to the experience (since the website is a little hard to navigate)
Day 11 | Colmar
After spending 10 days on vacation, the children were starting to rebel. We had plans to spend 3 nights in Bern, visit Thun Castle and eventually spend the night in Colmar on the way home, but we had to cut our journey short. We went straight from Grindelwald to Colmar on Boxing Day, checking out the amazing Christmas Markets there and eventually spending the night in Ramstein where we visited a friend and fellow blogger.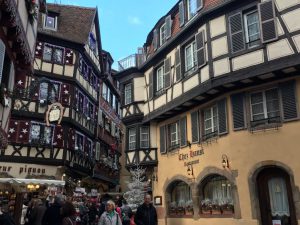 Final thoughts
We had been planning this  trip since we first found the pamphlet for Jungfraujoch during our Villars vacation in February. We had been promising the children snow for Christmas since we told them we had holiday plans, but the weather-man was not cooperating and we faced little snow for Christmas this year. This was probably where we lost their attention. I imagine if there was enough snow to keep them focused, they would have had a much better time and we could have stayed those extra few nights in Bern as planned.
Over all, there is a chance I over-planned and was too excited about the whole vacation and my expectations were too high. Don't get me wrong, we had a great time, but I feel this wasn't the greatest vacation we have ever had and I believe the children feel the same way.
Plan Your Trip – Stay and see everything
Accommodations
Flights
Car Hire
Pin this to Pinterest:
Do you have any Tapped Out Tips?
Questions or Comments? Join the conversation below.