During our Christmas vacation in Zurich, we took a quick day trip to Lucerne. The markets and architecture were not as appealing to the children as I would have hoped, but I did have a plan B up my sleeve. The Swiss Museum of Transport was just on the other side of town and they were open!
As seen on; 2 week Switzerland Road Trip
Swiss Museum of Transport
The outside of the building wasn't exactly marked with giant lettering and I wasn't exactly sure what to look for in terms of building size. There were several buildings attached to each other, with separate doors, and I looked around to see which one was the Museum of Transport. All of them! They were all the Swiss Museum of Transport. That's how big this place was.
There was a nice display at the front entrance, where the kids could climb and play train conductor. This set the stage for what they were about to experience. Telling a 5 year old that we are going to check out trains is one thing. Showing him that we can climb and play on trains, priceless.
The internet did not do this museum justice. It was much larger than I had anticipated, and covered a lot more than just trains, hence the name Swiss Museum of Transport not Swiss Museum of Trains. The entire complex is spread out over 20,000 square meters, the majority of which is allocated to the museum.
Also see; Travel Toddler bag
Trains
Down the hall from the front desk is the trains building. We were able to play with toy trains, see examples of past trains and experience the evolution of train technology.
Of course the kids rushed through every single station that I hardly had a chance to see what it did, let alone read the plaques, but that's life with little ones I suppose.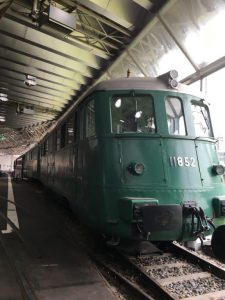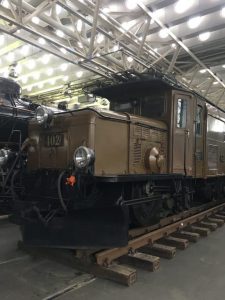 Cars
Once at the end of the trains exhibit, we exited the side doors and followed the arrows on the ground. We entered the Cars exhibit. This building is so authentic, it smelled like a garage. The kids loved the carousel in the middle and the toys at the end, go figure.
Also see: Tips for traveling with kids and babies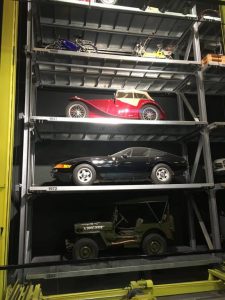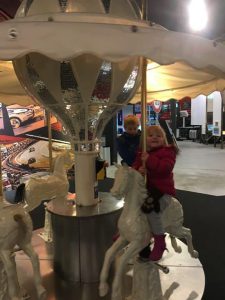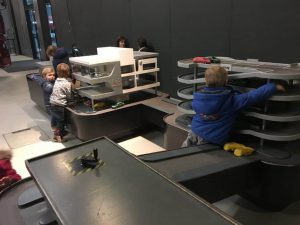 Boating pool with Pedalos
In the middle of the complex was a large body of water and a few pedalos. We can't forget about our navy. Munchkin and Hubby took a few laps around the pool while Baby Girl and I watched from the side lines. We played in the sand pit with the diggers and various child-sized construction vehicles.
Also see; Winter Packing List and  Basic Winter Gear for Europe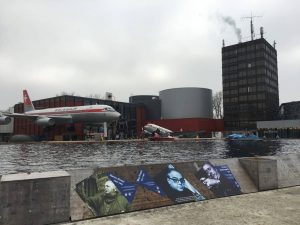 Also see; Tips for Winter Road trips
Traffic Garden and Road Construction arena
The kids had way too much fun here. After spending an hour or so walking ever so patiently through the various buildings, not touching anything they weren't allowed to touch, not climbing on anything they weren't allowed to touch, this was perfect. We spent a fair bit of time just watching them climb, dig, destroy and rebuild.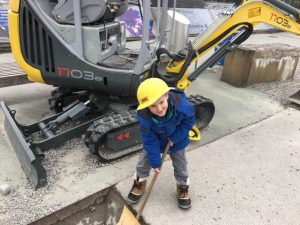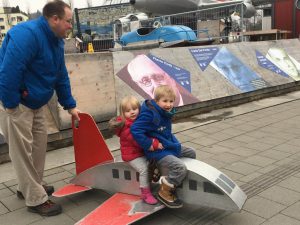 Entrance |Ticket sales
When walking in, there are several directions calling to you. The main ticket desk is in the centre of this giant lobby. This "compound" was not just the Swiss Museum of Transport. It was also home to the Swiss Chocolate Adventure, Planetarium and Filmtheatre.
Also see; Best Museums in Europe for Kids
According to the front desk, the Swiss Chocolate Adventure was a 30 minute ride with stations that explain the process of making chocolate. The whole thing is in German, but English headphones are available. It was geared towards 6 years old and older, as there isn't anything to touch or do, just watch and listen.
The Planetarium was a 45 minute ride with headphones as well, and there were several shows per day. These are geared towards  12 years and older. They explore other planets, moons, and other heavenly bodies.
The Filmtheatre is just like any other cinema, except that is it the largest screen in Switzerland and it does not play the lately blockbuster hits. They play purely scientific documentaries; Wild America, Wild Cats 3D, Rocky Mountain Express and more.
Also see; Road tripping with kids
The tickets are sold separately, the Swiss Museum of Transport being the most expensive, at 30 CHF per adult,  and the others are significantly cheaper, at 15-18 CHF per adult for each attraction, discounted when purchased as a bundle. We decided to stick to the museum only.
Plan Your Trip – Stay and see everything
Accommodations
Flights
Car Hire
Pin this to Pinterest:
Do you have any Tapped Out Tips?
Questions or Comments? Join the conversation below.