Day trip to Liechtenstein from Zurich
On our second full day in Zürich, we decided to visit Vaduz, Liechtenstein. We had discovered too many places during our tour of Zürich and had nothing left we needed to visit so we changed our plans and decided to visit Vaduz on Monday, instead of Tuesday. You will find out soon why we should have stuck with our gut and stuck to the Tuesday schedule as we answer what to see in Vaduz.
Vaduz, Liechtenstein
With a population of only 37,000 across 160 square km. It has an unemployment rate of 1.5%, impressive to say the least, and only accepts 30 some-odd immigration requests per year. As the sixth smallest country in the world, technically a constitutional monarchy with the title of principality, Liechtenstein is not a formal member of the European Union, but does participate in the European free trade and freedom of movement (Schengen). Liechtenstein also uses Swiss currency (CHF).
Also see; Tips for Winter Road trips
When to visit Vaduz
So, it turns out, everything is closed on Mondays. In North America, we celebrate the Sabbath and most shops, museums and public buildings are closed on Sunday. Europe doesn't have the same customs, so they cater to the will of the people; why be closed on the only two days a week they are available to visit? Many countries have their off-days on either Monday or Tuesday. I have been planning this vacation for a few months now and I had written 'Tuesday' in very big letters on the top of my itinerary. Come Monday morning and we were short of something to do (only because Zurich was equally closed on Monday), hubby had the bright idea to visit Vaduz, Liechtenstein. I forgot why I had scheduled it for Tuesday and didn't think much of it. My itinerary had a list of places that were opened during the winter holidays, and a mention of those that were closed. I failed to note the days of the week that they were open, so we went anyways.
Had we visited on Tuesday, we would have visited the National Museum. In the Summer, the Citytrain also looks like a pretty great option for seeing the city.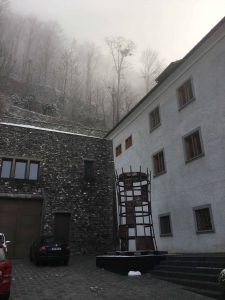 What to see in Vaduz
We parked in the center of town, and found our way to the Tourism office. This place was great. There was a load of information pamphlets and maps, inexpensive souvenirs (as opposed to a shop, because  everything is still super expensive anyways), and clerk was able to answer all of my questions. Namely, what was left open and where can we go eat.
The Postage Stamp Museum and attached Treasure Chamber were available after the standard lunch-hour closure. Another terrific thing around these parts, instead of staff-rotations, the staff just close the doors and have 1.5 hours break in the middle of the day. Can I have a break to eat my lunch in peace? Cause that would be great.
As seen on; 2 week Switzerland Road Trip
The office had an adorable Christmas tree set, which no one wanted to have their photo taken in front of. They both wanted to sit in the chair and wear the crown, except it was right in front of the window and the sunlight coming just ruined it all. But you get an idea of cuteness below; some Chinese tourists asked to have their picture taken with her. If you see her on a billboard or blog somewhere in the future, let me know.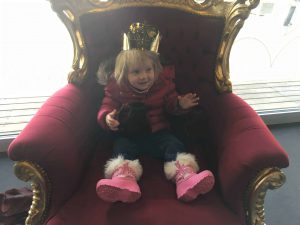 Just before we left, I remember reading something online. Someone, they weren't specific, will stamp your passport for a small fee. Since Liechtenstein is technically Schengen, there is no border check. For some reason, they have decided that the wishes of the tourists could still be granted. The clerk informed me that she is the one that does the stamping. 4 CHF per passport, we now have Liechtenstein stamps in our passport. Yay!
Also see; Winter Packing List and  Basic Winter Gear for Europe
Lunch
Burg Brasserie was maybe 200 m from the tourism office and it was highly recommended. When we arrived, we could see why. The menu was in both English and German, which was perfect, and they weren't closed for lunch ('cause it's happened before). It was empty when we showed up at 12:30 pm though it quickly picked up after we placed our orders. We even sat next to a group of Australians, visiting Europe for the winter break.
Also see; Travel Toddler bag
Across the street from the restaurant was a Christmas market skating rink. I couldn't find any stalls for the market, just a rink decked out in Christmas decorations. Unlike Paris, we had to rent these skates and the sun was coming. After lunch, the Zamboni was clearing away the melted ice and it didn't look good for our chances of skating today.
Wine tasting
Shortly after having lunch, Baby girl fell asleep in her stroller. Munchkin said he didn't want to visit the Stamp Museum so we just went for a walk. Before long, not 750 m, we found ourselves at the Royal Wineries. 
The winery had a great walking path that we could stroll through, looking at all the great vines that would one day make a great bottle for me to buy. The winery has been owned by the royal family since 1712, when they acquired the county of Vaduz. The vineyard itself is roughly 4 hectares in size.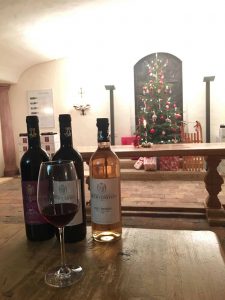 The venue looked like it was able to host large enough events, like a wedding.
In the back room, they offered a wine tasting of 9 CHF per person. This included Pinot Noir; Rose, Medium and Strong (aged in French Oak). I'm more of a wine drinker than wine connoisseur, but I do know a good taste when I smell it. We decided to buy a few bottles of the Medium.
Also see; Road tripping with kids
Liechenstein Castle
Since 1938, free access to the castle is no longer possible. It is, however, with a guided tour only, and during the summer months.
As seen on; Best Castles in Europe
We had some time to kill and it was right there so we took a little detour to check it out. There was a parking spot further up the hill to take a hike around the castle grounds but both kids had already fallen asleep by then – didn't take long. We took a few pictures from the parking, then slowed way down on the way out so I could snap a few on the way. Considering I am not the photographer, and the cobble stone roads didn't exactly leave for a steady hand, I think it turned out half-decent.
Now, why didn't we just pull over and take a pic closer than the parking spot? It is a very curvy road and the traffic was inconsistent. We didn't feel safe pulling over on the side of a mountain, down being on the outside, just for a few snaps. Going stupid-slow was enough for me.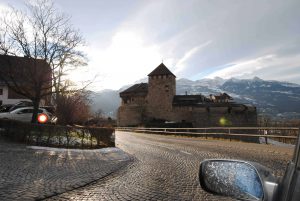 In the end, this had to be one of our cheapest day trips ever, since we didn't actually accomplish anything, but we did have a fun time doing it. That must count for something.
Never on a Monday!
Plan Your Trip – Stay and see everything
Accommodations
Flights
Car Hire
Travel Gadgets
Tappedouttravelgadgets.com Looking for seriously cool travel gadgets? This fun, futuristic, and practical gear collection from around the web is what you're looking for!
Pin this to Pinterest:
Do you have any Tapped Out Tips?
Questions or Comments? Join the conversation below.