Kids Traveling | Little Experts about London
When visiting such a large and busy city like London, it is easy for little ones to get overwhelmed by what they see. Having a few resources available to prepare them for what is coming, as well as distract them while they are there is a great way to make Little Experts about London . ~ Click the images to find out more about each book ~
Madeline in London
"Even the Queen's guard is involved when Madeline and Pepito, the Bad Hat, take a wild ride around the city….Glowing pictures and a lively story." Grade Teacher
Also see; London in 6 days, with kids
 London: A Book of Opposites
Hello, World is an exciting board book series that pairs early learning concepts with colorful, stylish illustrations of cities around the world.
London can be rainy, or it can be sunny. Some Buckingham Palace guards are big, and others are little. Explore opposites through the sights of London in this gorgeous board book!
City Trails – London
Here's a book about London that's seriously streetwise! Let Marco and Amelia, our Lonely Planet explorers, take you off the tourist trail and guide you on a journey through London that you'll never forget. This book is perfect for anyone who has been to London, plans to go there or is just interested in finding out more about this amazing city!
Discover London's best-kept secrets, amazing stories and loads of other cool stuff from the comfort of your own home or while visiting the city! But, you don't have to be a visitor or armchair traveller to enjoy this–Londoners are sure to learn new things about their very own city too!
Find out how an old parrot hit the headlines, where you can purchase a tin of panic or some tasty brain jam, what the weirdest item ever left on a bus was and lots more! For readers ages 8 and up.
Kids' Travel Guide – London
A new family adventure is waiting for you in London.
With Kids' Travel Guide – London Your kids will become the family tour guide! They enjoy fun facts, challenging tasks, useful tips, coloring pages and exciting quizzes. There will be no boring moments in your London vacation…Watch as your kids become little experts of London: The relevant history, what the city looks like, the transportation system, and many fun and fascinating facts about the city. Your little tour guide will take you through London attractions: Be sure to visit best sites for kids and lots of fun things to do in London! From planning and packing to returning home: The London guide and diary will become a souvenir of your travel that the whole family can treasure for a lifetime. You, the parents… All you need to do is to find an available bench and relax. And, of course, enjoy your London vacation while you enjoy your active children.
Also see; Cardiff for Christmas
This is London

With the same wit and perception that distinguished his charming books on Paris, New York, and San Francisco, M Sasek presents stylish, elegant London in This is London, first published in 1959 and now updated for the 21st century.  Here this beloved illustrator shares his impressions of London with its beautiful buildings, historic monuments, bridges, parks, shops and Piccadilly Circus, black cabs, Horse Guards, and famed Underground.  Sasek has cast his loving eye on London and the result are colorful, sophisticated pictures of one of the most exciting cities in the world, paired with a lively text that keeps a playful sense of fun while taking the reader to the highlights of one of the world's great capitals.
This is London is a facsimile editions of Sasek's original title. His brilliant, vibrant illustrations have been meticulously preserved and remain true to his vision. With the passing of time facts have been updated where applicable in the back of the book.  The result is a treasure with an elegant, classic look and delightful narrative that will charm both children and their parents, many of whom will remember the same book from their own childhood
Katie In London
Celebrating 25 years of Katie with a beautiful new cover look!
When Katie and her brother, Jack, visit London with Grandma, at first it seems it's full of big buses, big buildings and bigger crowds. When they stop off at Trafalgar Square, something quite unusual happens they meet a talking stone lion! The lion takes them on a wonderful tour of the city taking in such sights as The Tower of London, Buckingham Palace and the London Eye! It's a daytrip to London that Katie and Jack will never forget!
Featuring many of the key sights of Britain's capital, this storybook has become a bestselling introduction to London, and a perfect story for children visiting the city for the first time.
A Walk in London
London is calling! Come along on a mother-daughter day trip as they wend their way past the changing of the guard at Buckingham Palace, through Trafalgar Square, and on to Covent Garden. Listen closely and you might just learn a secret about the Whispering Gallery in Saint Paul's Cathedral. Then it's on to the Tower of London and the river Thames, where a fold-out surprise awaits. Readers will be enchanted by Salvatore Rubbino's cheerful, sophisticated illustrations and abundant trivia about the one and only city of London. Cheerio.
My First Book of London
A beautifully illustrated hardback picture book about one of the most exciting cities in the world! A must for anyone visiting London for the first time with young children.
Fodor's Around London with Kids
Fodor's Around London with Kids provides both visiting and local parents with 68 fun family activities to do in London, from exploring the London Dungeon and all its gruesome thrills, to learning about brass rubbing (and making your own) at the Brass Rubbing Centre, to getting a bird's-eye view of the city from the London Eye. Each activity features practical tips and suggestions for nearby places to eat. Plus, there are games for the kids.
Check out more Travel books for kids;
* This post contains affiliate links. Click the books for more information

Plan Your Trip – Stay and see everything
Accommodations
Flights
Car Hire
Travel Gadgets
Tappedouttravelgadgets.com Looking for seriously cool travel gadgets? This fun, futuristic, and practical gear collection from around the web is what you're looking for!
Pin this to Pinterest: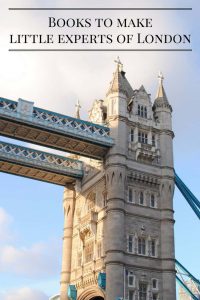 Do you have any Tapped Out Tips?
Questions or Comments? Join the conversation below.