Helping Kids Travel | Kids Paris Travel Books
Such a beautiful, fast paced city with so land landmarks, spread out across such a large area; it would be easy for kids to be overwhelmed with Paris. Kids Paris Travel Books are meant to prepare them for the concepts they will see in the City of Lights, and hopefully give them a few tid-bits of information to pass along to mom and dad during a tour. ~ Click the images to find out more about each book ~
Paris: A Book of Shapes
Paris is a treasure trove of fascinating shapes: there are triangles at the Louvre Museum, rectangles at Notre-Dame Cathedral, arches at the Arc de Triomphe, and stars in a beautiful Parisian night sky. Explore shapes all over Paris in this gorgeous board book!
Also see; Paris with kids
All Aboard! Paris: A French Primer
This new board book series written by the husband and wife team of Haily and Kevin Meyers and illustrated by Haily, celebrates the unique qualities of each city while employing a fun primer element to tell the story. These books will have you and baby seeing the world by train and will turn story time into a globetrotting event. Perfect as a souvenir or as part of a geography collection for brilliant babies, the All Aboard! series will be pulling into your station next!
Also see; Top 10 to do in Paris
Come With Me To Paris
This charming rhyming book is a great introduction to the sights and culture of Paris. The book begins by inviting the reader to come along on the journey and ends with a good night wish.
Colorful and whimsical illustrations feature well-known landmarks such as: The Eiffel Tower, The Palais Garnier, The Louvre, Sacré-Coeur, Sainte-Chapelle, Notre Dame, the Luxembourg Gardens, the Arc de Triomphe, and more
.
The Tiny Traveler: France: A Book of Colors
The Arc de Triomphe, the Moulin Rouge, the Eiffel Tower—there is so much to do and see in the colorful city of Paris. From graphic designer Misti Kenison comes an adventurous new board book for your toddler. The culture and monuments of France are rendered into bold, graphic illustrations accompanied by vocabulary to teach toddlers basic colors. Traveling to foreign places has never been so colorful, or educational, for young children before!
Each book in Misti Kenison's new Tiny Traveler board book series is sure to give your child the travel bug early by transporting little ones to exotic and fantastic places while teaching basic concepts—such as colors. Now you and your little one can explore the world together from your living room
Paris Up, Up and Away
Soar over Paris and see the city as it's never been seen before: from the Eiffel Tower in flight!
City Trails – Paris
Here's a book about Paris that's seriously streetwise! Let Marco and Amelia, our Lonely Planet explorers, take you off the tourist trail and guide you on a journey through Paris you'll never forget. This book is perfect for anyone who has been to Paris, plans to go there or is just interested in finding out more about this amazing city!
Discover Paris's best-kept secrets, amazing stories and loads of other cool stuff from the comfort of your own home, or while out and about in the city.
Find out where you can ride a dodo, how to paint the Eiffel Tower, where Paris keeps its historic underpants and lots more! For ages 8 and up.
Pop-up Paris
Paris will come alive with this beautiful and colourful pop-up book from Lonely Planet Kids. With a set of six stunning pop-ups and gorgeous illustrations, this book is the perfect introduction to the magic of Paris for any age. This stylish look at the city's iconic landmarks will kickstart the travel bug in young explorers!
Pop-up Paris includes pop-ups of the Eiffel Tower, the Pompidou Centre, Notre Dame Cathedral, the Moulin Rouge, the Arc de Triomphe and a tower of delicious macarons!
This is Paris
With the same wit and perception that distinguished his charming books on London, New York, and San Francisco, here this famous Czech painter presents his impressions of Paris in This Is Paris, first published in 1959 and now updated for the 21st century.  We see its famous buildings, its beautiful gardens, the museums, the sidewalk cafes, and the people who live there — artists, the concierges, the flower girls, and even the thousands of cats. Take a tour along the banks of the Seine, or through the galleries of the Louvre, or to the top of the Eiffel Tower.  Elegant, vivid pictures of one of the most beautiful cities in the world, This is Paris!
Check out more Travel books for kids;
*This post contains affiliate links. Click the book for more information*

Plan Your Trip – Stay and see everything
Accommodations
Flights
Car Hire
Travel Gadgets
Tappedouttravelgadgets.com Looking for seriously cool travel gadgets? This fun, futuristic, and practical gear collection from around the web is what you're looking for!
Pin this to Pinterest: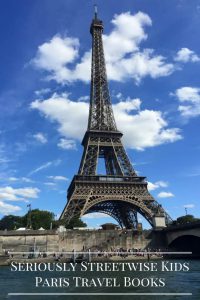 Do you have any Tapped Out Tips?
Questions or Comments? Join the conversation below.