Pancake boat and windmills!
With Easter around the corner, we needed to find a place to visit that wasn't going to break the bank. A quick google search of what and where is open during Easter break. Rotterdam was on the short list.
Landing day / Battle plan
We left on Good Friday with the intention of visiting Efteling park and Rotterdam the next morning. The heavens opened up and it poured rain. Scrap that, called the hotel and added one night to the reservation and spent Friday night in Rotterdam. We landed around 3; too late to go anywhere since they closed at 5, wasn't sure it was going to rain, and we needed groceries.
Also see; Efteling Park
Funny story, we went for a walk – wanted to take the kids to a nice little café for snack time and walked passed the "Nemo coffee shop". As we are turning the corner to the entrance, we see guards at the door checking ID and a few signs in Dutch and English. Turns out, it's marijuana smoking shop. My kid was pissed. We found a restaurant that had Easter eggs at the door and stuffed them with chocolate before our food arrived.
Accommodations
Our hotel/apartment was amazing and crazy at the same time. We had only spent the night in the Netherlands once before and it was a ground floor Best Western in Amsterdam. We were on the third floor, it had a separate bedroom, kitchen, living room and dining room. Free wifi.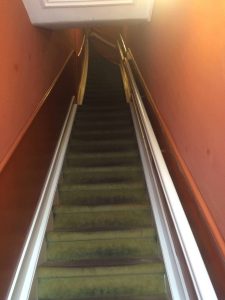 Points of Interest | Zoo / Mini-city
Day 1
Morning finally came and we headed for the Rotterdam zoo, or the Diergaardeblijdorp. We showed up just before opening and felt completely alone until lunch time. We moved from exhibit to exhibit a little faster than I would have liked but the toddler just couldn't keep still, he was so excited. The America's wing was amazing; the Amazon had a butterfly enclosure. Everyone was taking off their coats and poor baby girl woke up when we left because of the drastic change in temperature. Munchkin wastelling us all about butterflies, and the proboscis, nectar and wings, so proud. My highlight was the Oceanium. It was similar to Sealife, only better; Penguins and Polar bears, tunnel under the fish tank and feeding animals throughout the day. By the time we finished this section of the zoo, we started to head back to the front entrance, finish Asia and grab lunch. Baby was awake, toddler was falling asleep, so I busted out the baby bjorn and the kids switched. Not 5 minutes later and he was passed out. It was now baby's turn to enjoy some animals without sharing us with her brother – I have to say, I love when the days align this way, makes them more enjoyable at this age.
As seen on; 70 day trips from Dusseldorf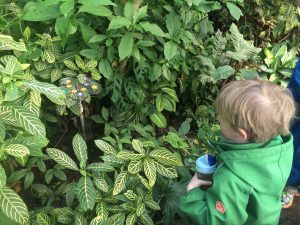 After some walking around, ice cream that I was forced to share with the baby that I was now wearing, we walked 10 minutes down the street, towards the apartment and visited Mini world Rotterdam. I had assumed it would be like Mini Europe in Brussels or Madurodam in Das Hague, it wasn't. It was a model train show. It was cool, don't get me wrong, just not what I had planned. The entire city of Rotterdam was recreated in model train, and the lights went down every so often to see the city light up at night. Toddler had a great time. The cafeteria was small but empty so we took another break; baby took a second nap, toddler played in the small play area while hubby and I enjoyed a hot beverage and a snack.
Cruise / Tower
Day 2
Easter Sunday. Toddler had been learning about the Easter bunny at school, and we were talking it up with him at home. This was going to be the first year he actually understood what was going on; last year he hunted for eggs but he had no idea why they were there, just figured ; free chocolate, don't ask questions. This year he was asking us, how will the Easter bunny know. He knows everything, don't worry. I planned ahead and packed mini chocolate eggs to put inside the larger plastic eggs, should his sister find one before he did. We had as much fun hiding the eggs as he did finding them.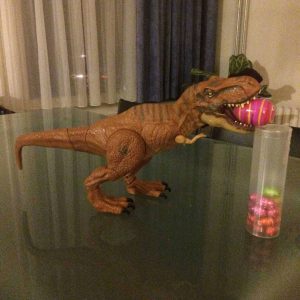 That morning was the Pancake boat – Depannenkoekenboot, what Rotterdam is famous for. I was excited for unlimitedpancakes, and already knew that they were crepes by Canadian standards, not fluffy pancakes but I didn't care, it was amazing. It had a ball pit under the stairs. Toddler lost his mind

Euromast was across the street from the boat launch. We saw an amphibious vehicle giving tours, it was much too expensive for us but it did look amazing. We even got to see it land in the water before we walked away. The Euromast is hardly stroller friendly. We had purchased tickets in advanced and asked if we could take it up, knowing the baby would be asleep. Much like the Eiffel tower, we were able to make it to the main landing and look around on the elevator, but there was a set of stairs to reach the next elevator and she had just fallen asleep. Furthermore, this next elevator was just seats around a centre console that went all the way to the top; she wouldn't have been welcome even if we had folded the stroller. We were not the only ones disappointed; many disabled or elderly persons came up the elevator and could not complete the tour.
It was only slightly after lunch and we had just stuffed ourselves full of pancakes/crepes, so we took a nice long walk. We were luck and the weather cooperated. I wanted to visit Delfshaven; I have an thing for windmills and old boats. It was a pleasant walk, burned some calories, did some groceries and called it a day. This is why we always pack the HDMI adapter for the ipad. The kids were happy to watch before dinner and we were happy to take it easy.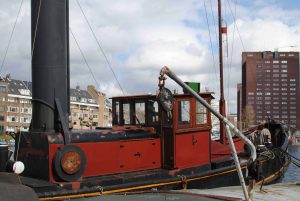 Decisions
Day 3
We were going to visit Kinderdijk in the morning but the weather was looking pretty aweful and no sign of letting up. As we got closer to our intended exit, we decided it wasn't going to happen. We continued on our way home, in the most miserable rain and chill that I have seen in a while. Another day; it isn't far.
An excellent resource for planning all of Netherlands can we found with the Lonely Planet Netherlands Guide. 
Plan Your Trip – Stay and see everything
Accommodations
Flights
Car Hire
Travel Gadgets
Tappedouttravelgadgets.com Looking for seriously cool travel gadgets? This fun, futuristic, and practical gear collection from around the web is what your looking for!
Pin this to Pinterest:
Do you have any Tapped Out Tips?
Questions or Comments? Join the conversation below.